We deliver XML-based publishing solutions since 20 years.
Our modular approach based on the CMS Plone and connectivity
to almost all conversion systems allows us to generate any
output like EPUB, PDF or HTML from a single XML source.
✅ Enterprise XML Content Management
✅ Unified XML Workflows
✅ Single-Source Multi-Channel Publishing
✅ DOCX→XML Conversion & Import
✅ High-Quality PDF Generation
✅ Open Architecture • Open-Source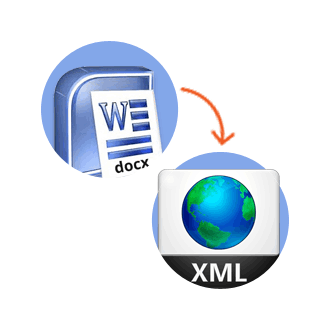 IMPORT AND CONVERT DOCX → XML → DOCX
Seamless import of DOCX content into our XML CMS and conversion to XML. We support conversion of Docbook DTD and DITA out-of-the-box. DOCX documents using stylesheets can be converted to XML/HTML using a custom DOCX conversion and back to DOCX. We are generally able to support any custom DTD or XML schema as part of a customer-specific configuration.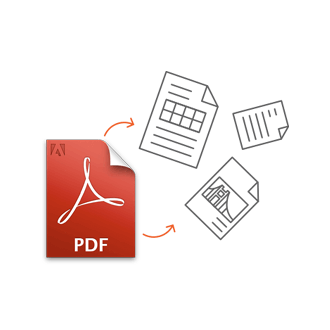 XML Publication Workflows
SINGLE-SOURCE MULTI-CHANNEL PUBLISHING
XML-Director allows you to manage the complete XML workflow through a unified web interface, from upload and conversion to quality control, publication and distribution. Individual XML workflows can be assigned to single documents or document collections. Fine-grained access control allows you to define who can access and edit content.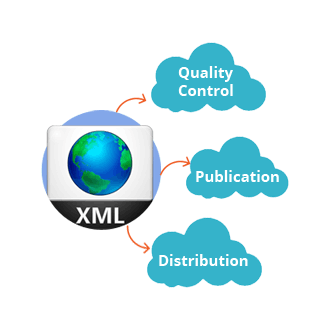 PDF GENERATION FOR PRINT-READY DOCUMENTS
XML-Director supports multiple PDF converters to generate high-quality PDF documents from your XML content. We support layout-oriented documents like brochures as well as traditional print products with texts and images. Custom styles for your corporate identity or content branding can be added and controlled easily through CSS (Cascading Style Sheets).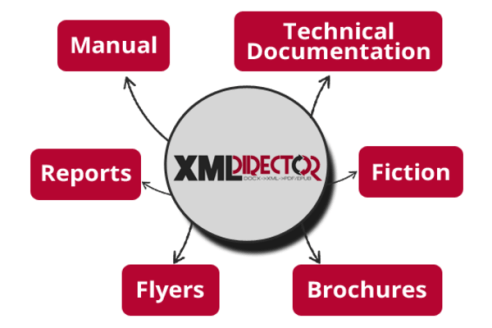 Use Cases
XML-Director provides a simple and unified user interface for those using XML publishing workflows. XML-Director can be used for technical documentation and for the authoring and production of guidelines, quality assurance documentation, SOP and more. Manage your content in Word (DOCX) including all the necessary styling such as paragraph and inline styles.
conversion of DOCX → XML → DOCX (DOCX-XML round tripping)
conversion of XML to HTML/Web, PDF and EPub
publication and distribution of generated content
XML-DIRECTOR CAN BE USED FOR VARIOUS USECASES
Fiction
Manuals
Technical documentation
Technical literature
DOCX → XML → DOCX Conversion
IMPORT YOUR OFFICE CONTENT AND CONVERT IT ON THE FLY TO XML
XML-Director provides support for the conversion of DOCX content to XML. We support the conversion of standard DOCX to Docbook and DITA XML. We also support the conversion of DOCX content with custom templates. to custom XML schema and DTDs. As part of the DOCX to XML conversion workflow, we also generate HTML for displaying the content on the web or as preparation for later conversion to EPUB. The DOCX → XML conversion is enabled by the C-REX conversion service. Our conversion workflow allow supports XML round tripping for re-generating DOCX from a converted XML document. The open architecture of XML-Director makes it easy to integrate other conversion services or data import sources. Open-source converter tools like Open-Office/Libre-Office can be linked to using the Produce & Publish conversion server and the open-source conversion tool unoconv.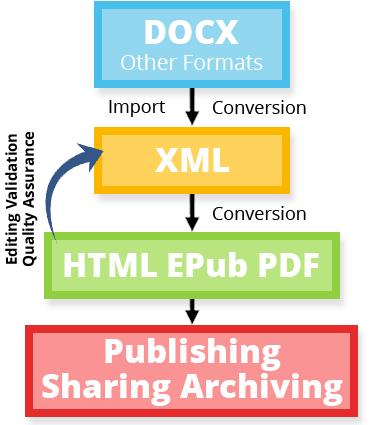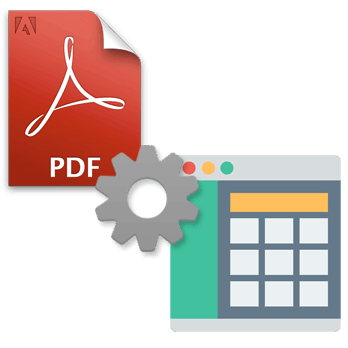 HIGH-QUALITY PDF GENERATION AND IMPRESSIVE PAGE LAYOUTS
XML-Director supports the generation of high-quality documents. The PDF quality is comparable to the quality of documents generated with tools like Adobe Indesign or TeX/LaTeX. XML-Director can produce traditional print products like texts with photos as well as more layout-oriented publications like brochures.
High-quality PDF generation
Styling through CSS
fully compliant PDF/A-1a, PDF/A-3a generation
Tagged PDF
CMYK/RGB color space
SVG
Barcodes, QR codes
MathML
Truetype and Opentype fonts
PDF forms
Bidirectional texts
Raster Image Processor
Printer Marks
Multi-lingual documents and hyphenation
Multi-page tables
Footnotes, headers, footers
PDF metadata, PDF comments
XML-Director supports a variety of high-quality PDF converters like PDFreactor, PrinceXML, Antennahouse Formatter or Speedata Publisher and provides you with the best converter option based on your project requirements.
The styling of a layout is accomplished solely using CSS (CSS Paged Media Standard). You do not need to learn XSL-FO or other complex layout languages or tools – knowledge in CSS is sufficient for creating a great-looking layout.
We are working since almost 20 years in the field of electronic publishing, content management systems, large web publications, intranets and extranets and custom software development. Lead developer Andreas Jung worked over the last 20 years for several publishers in Germany and helped to build enterprise-level applications for customers. In 2008 we started our own publishing toolbox called Produce & Publish and delivered superb publishing applications with the focus on high-quality PDF generation to several customers world wide. Due to privacy and legal reasons we are not able to publish all references.
Case studies